Our shop
Come and discover our shop on the biscuit factory site
and surrender to the gourmet pleasure of our sweet biscuits and savory treats.
We welcome you from Tuesday to Friday from 9 a.m. to 5.30 p.m.
(open Mondays during school holidays).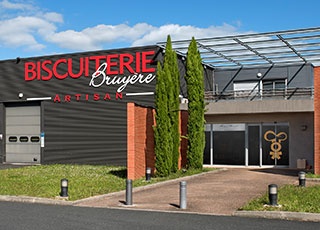 As soon as you arrive in the car park the delicious smells wafting from the production unit will guide you towards the attractive displays in our shop specially created to welcome you to the heart of our family-run biscuit factory.
There you will find all our cookies and gift boxes.
We also offer many regional and artisanal food items that you can even include in a gift assortment box.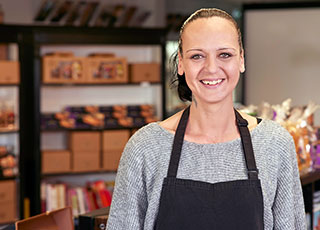 Our hostess Laëtitia is present all day to greet you, from Tuesday to Friday from 9am to 5.30pm.
She will invite you to taste our specialties and help you discover many original gift ideas.
Succumb to the gourmet pleasure of our sweet biscuits and savory treats.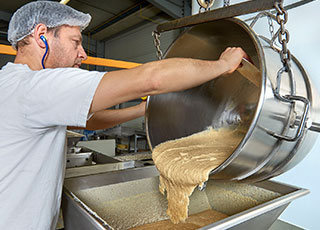 During your visit you can enjoy a panoramic view of our workshop.?
The workshop visit is over here.
As a reward to our faithful customers we have created a loyalty program.
Ask our hostess for more information.
If you're in a hurry or want to place a large order you can place an order before your visit.?
You will then pick up your biscuits at the shop.
Contact us by e-mail or by phone on +33 (0) 5 63 81 19 66.
For the protection of us all in the current health context we ask you to comply with the hygiene measures in place in our establishment.
See you soon!
Covid Information
Due to government restrictions, tours of our workshop are suspended until further notice.
Workshop Tour
Come and discover our story and the workshop where our biscuit specialties are made every day.
The visit includes 3 steps :
First our hostess will welcome you and present the Maison Bruyère story together with our various products.
Then she will explain how we manufacture and package our biscuits, with a panoramic view of the production workshop. This is a spoken presentation with the addition of a short video.
Finally you will be given a taste of our biscuits and discover our entire range.
If you so wish, you can of course take the time to stroll through the biscuit shop and (why not?) pick up a few items to offer to your friends and family… or not!
Who is our biscuit factory visit designed for?
Tours are organized for groups of at least 10 persons, regardless of audience type: young children, students accompanied by their teachers, retirees, sport clubs, organizations, tourist groups, works committees, etc.
Our premises are accessible to people with reduced mobility. Our artisan workshop is visible through windows set at about 1.10m from the floor, offering a wide view on the production area.
Parking is available, buses and camper vans are also welcome.
When can you come and visit our family-run biscuit factory?
Visits are by appointment only, Tuesday to Friday, 9am to 3pm.
They last between 45 and 60 minutes.
Reservation by email is required, at least two weeks in advance.
The visit is free! Come and share more than 50 years of passion for delicious treats!
For more information, or to make a reservation, you can contact us by e-mail or by phone on +33 (0)5 63 81 19 66.